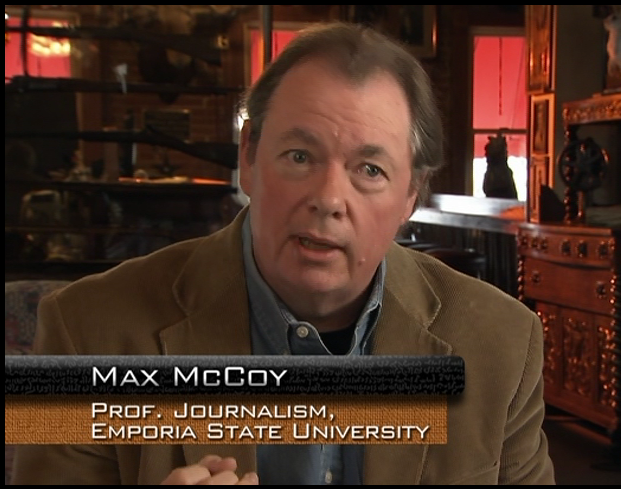 Max McCoy on The History Channel
Will you come speak to my class/library/writers organization?
Love to. Contact me and let me know what you have in mind. Some of my professional appearances, including workshops and keynotes, have been for the following organizations:
College Media Association Annual Convention, New York
Friends of the James Farm, Kearney, Mo.
Guthrie (Okla.) Public Library
Hutchinson (Kan.) Arts Council
Independence (Kan.) Public Library
Family Reading Festival, Iola, Kan.
Kansas Author Dinner, Wichita (literacy fundraiser)
Kansas Authors Club, Topeka
Lawrence (Kan.) Public Library
Llano River (Texas) Outdoor Expo
National Press Club of Japan, Tokyo
Northeast Texas Writers Organization
Oklahoma Writers Federation, Oklahoma City
Ozark Creative Writers, Eureka Springs, Ark.
Ozark Writers League, Point Lookout, Mo.
River City Reading Festival, Lawrence, Kan.
Southeast Kansas Library System, Iola
Southwest Kansas Library System, Dodge City
Tallgrass Writing Workshop, Emporia (Kan.) State University
University of Central Arkansas, Conway
University of Central Missouri, Warrensburg
Western Writers of America Annual Convention
Wichita Public Library, Alford Branch
Writing the Rockies, Gunnison, Colo.
Wyoming Writers Annual Conference, Cody
I have a great idea for a novel and it's sure to be a bestseller. Will you write it if I let you keep half of the royalties?
I get this one all the time. In a word, no. In three words, don't even ask. There are all sorts of good ideas out there, but what counts is execution. I suggest you take your idea and try to write the book yourself and see just how fucking hard it is.
I've published (or self-published) a book and would like a quote from you to go on the cover. How much do you charge?
I don't. Some authors, I know, do take money for this sort of thing, but it's intellectually dishonest. If I like your book,I'll give you a blurb for free. But don't ask for it or send me copies of your little darling. If I'm impressed by your work, I'll find you.
Will you take a look at my manuscript, help me find an agent, and get published?
No. That's what writing workshops are for. Besides, honest critiques hurt. But if you really want my opinion, come to a writing workshop where I'm speaking and give me a short pitch, and then maybe I'll read a few pages and give you an honest critique.
I don't like the way your characters talk in your westerns. It's filthy. People really didn't talk that way in the old west, did they?
Sorry, but they did. When Pat Garrett captured Billy the Kid in 1880 at Stinking Springs, New Mexico, the kid called Garrett a... well, a word that is famously associated with the HBO series "Deadwood."
I'm looking for to you Ophelia Wylde paranomral mysteries series. When does the first book come out?
OF GRAVE CONCERN will be released in July 2013.
What's your award-winning western trilogy about?
The HELLFIRE western noir trilogy began with HELLFIRE CANYON, publishined by Kensington in 2007, and is the story of Jacob Gamble. It's (mostly) about his adventures when he was a teen-ager during the Civil War in Missouri. But it's more than that, and there are frames within frames. It's also about his mother, Eliza Gamble; the outlaw Alf Bolin, who operated from a place called Murder Rocks in Taney County, Missouri; a film called "Hellfire Canyon" released during the 1930s in Joplin, Missouri; and a young reporter named Frankie Donovan, who interviews an aging Jacob Gamble about his life.
The book won the Spur Award from the Western Writers of America for best paperback novel and was named a Kansas Notable Book in 2008. A word of warning, however: the footnotes in the book are, well, unreliable. It is, after all, a novel. The second and third books both appeared in 2010, also by Kensington, and they are CANYON DIABLO and DAMNATION ROAD. DIABLO takes Gamble to Arizona Territory in the 1880s, and ROAD brings Gamble into the Twentieth Century at Guthrie, O.T., as a legendary but tired outlaw about to turn fifty. DAMNATION ROAD won the 2011 Spur Award for best novel also. That might be a record, having two out of three books of a trilogy win Spurs. Other Spur winners this year included the Coen brothers for "True Grit" and Thomas Powers, the Pulizter Prize-winning author of "The Killing of Crazy Horse."
Also, the trilogy isn't identified on the covers as such, at least not yet and maybe never, but my editor at Kensington talked once about bringing all three together in trade paper (Note: the first two, however, were republished in special mass market editions widely carried during Summer 2012 by Walmart). Also, ignore the cover copy on the back of the books. They do a poor job of describing what the books are about. I do thank my friend Johnny D. Boggs, however, for his blurb for DIABLO and ROAD: "Wickedly savage."
Of Grave Concern
It's the spring of 1877 and Ophelia Wylde is a woman on the run. Driven from Chicago for having almost conned a noted industrialist out of a few thousand dollars through a series of spectacular but fake séances, she takes the first train west and finds herself in Dodge City. The rough-hewn cattle town has never seen anyone like Ophelia, a diminutive red-haired spiritualist with a Southern twang who travels with a pet raven and claims to talk to the dead. But when Ophelia's confronted with the real ghost of a murdered girl , she discovers her talents are greater than she ever pretended -- and teams up with Dodge City's most notorious bounty hunter to track down the killer.
Of Grave Concern is the first Ophelia Wylde paranomral mystery. Coming in 2013 from Kensington Books.
INDIANA JONES
Max is the author of four original Indiana Jones novels, licensed by Lucasfilm and published by Bantam. They have sold in the hundreds of thousands and have been praised by fans for matching the style and tone of the movies, while adding original touches and flourishes that Max's readers have come to love.The novels have become part of the Indiana Jones canon and begin with Indiana Jones. All are prequels to Raiders of the Lost Ark.
Damnation Road
Winner of the Spur Award for Best Novel from the Western Writers of America
It's the last chance for Jacob Gamble, Rough Rider, outlaw, and man of few principles. Nearing 50 and flat broke, Jacob bends his own rule about robbing trains. But by the time he reaches the payroll safe on a Rock Island train, he finds another thief there first with a bullet in his head. Jacob is caught holding the bag--and turned into a hero. A broke hero.

Shackled by unwanted fame, running from a life gone wrong, and raising the suspicions of a Pinkerton detective, Jacob listens to a woman: beautiful and tattooed by the Indians who seized her as a child. Anise Weathers knows of a treasure hidden in a cave along the Jornada del Muerto--a merciless hundred mile stretch of hell on earth guarded by Apache warriors. Now, Jacob will follow Anise into the most savage and deadly territory in the southwest—where few ever leave Damnation Road alive.
Other titles in Hellfire trilology include Hellfire Canyon and Canyon Diablo.